This week's finds:
Shelterpop: A little like Casa Sugar, but easier to navigate. Lots of interesting articles, nice photographs and ideas to steal, including a section on Famous people's houses.
Compai: Justina Blakely writes this elegant blog (recently featured on D*Sponge). Stop by for a daily dose of decor, fashion, art and her very own 'I dressed myself' series which is quite fun.
Someday Crafts : Easy DIYs and links to other equally lovely blogs. Am enjoying the Christmas ideas on the blog at the moment. Might try out this one…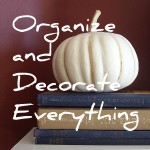 Organise and Decorate Everything: Just like it says.