I spotted this house over on 79ideas and was instantly smitten.Interior designer Rose Uniacke calls this amazing space home and the reason it appealed to me so much because I can see our own 200-year old home looking like this with a little (lot) TLC and a huge injection of cash (of course).
A dash of turmeric yellow against a white palette with generous touches of black and an accent colour like baby pink – this would be a refreshing colour scheme for our living room. A chandelier like that wouldn't hurt either!
We have several hallways in our house that need to be decluttered (emptied!) and made into simpler rooms that invite one to take a break and enjoy the space instead of careening through the dark shadows trying to ignore the dust bunnies lurking under the shelves.
and the same space, from Uniacke's website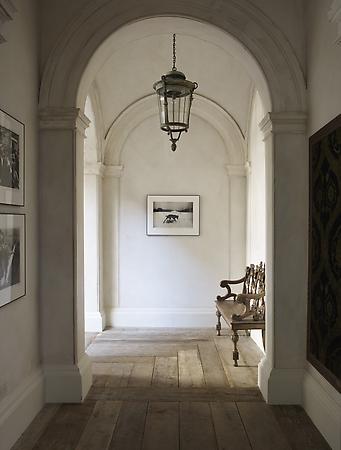 I'd so love a spot like this where trailing vines and large plants can give us our own little garden. Our 'backyard' would be perfect, but would the neighbours mind?
See more images here. Credit: Henry Bourne for the new york times and Rose Uniacke's website